2016: Album Reviews & Features 
Nigel Williamson's review for Songlines Oct 2016 (page 45)
A veteran soukous guitarist from the DR Congo, Siama Matuzungidi played on local hits by the likes of Kanda Bongo Man, Sam Mangwana and Tshala Muana in his youth. After spells of living in Uganda, Kenya, Japan and Dubai he eventually settled in the US. Rivers operates like a soundtrack to his journey, tracking the expansion of his musical vision far beyond his Congolese roots.
The global stew is best epitomized by the expansive opener 'Jungle Zombie', a throbbing melange of horns, tribal chants, swelling percussion, funk-fueled baselines and jazzy keyboards that defies geographical location. 'Sisili', 'Kueya' and 'Bolingo' draw more directly on the sweet harmonies and spiraling guitar tropes of soukous while 'Yele Yele' sways irresistibly to a South African township beat. But it's where non-African cultural imports join the fray that things get really interesting, whether it's the Indian veena of Nirmala Rajasekar, the cello of Jacqueline Ultan or the pedal steel of Joe Savage. They're all instruments seldom, if ever, heard in African music but here they sound like a natural fit that was meant to be."
Banning Eyre's RIVERS review for Afropop Worldwide 
"Siama Matuzungidi left his rural home in Zaire at age 17, headed for the capital, Kinshasa, to make his way as a musician. From the start, he played guitar backing greats like Sam Mangwana and Tshala Muana. Later, when he moved to Nairobi, Kenya, he worked for years with Samba Mapangala and Orchestra Virunga. But Siama's wanderings didn't stop there. He spent time in Japan and Dubai before landing in Minneapolis, the city he now calls home.  

From the sound of this unique album, he's settled in nicely in the American Midwest, creating a band that combines not only Congolese and American sensibilities, but finds room for South Indian veena, an ancient classical string instrument played by Nirmala Rajesakar, and searing Tibetan vocals by Tenzin Ngawang. The music is still comfortably African, rooted in the classic soukous sound Siama was reared on, and including reprises of hits he recorded with others, "Sisili" and "Kueya."  
  
On these more identifiably Congolese numbers, Siama's robust lead vocal and guitar center the sound. But he gets solid support from a virtual choir of backing vocalists, and the grooves incorporate acoustic piano into the weave of supporting guitar and bass, making for a warm, distinctive sonic mesh. There are some ripping 12/8 grooves, like the muscular opener "Jungle Zombie," also the propulsive "Ndombolo" with its weighty layers of vocals and the anthem-like closer "Oyayeyo," which evokes the pride and sadness parents feel when their children leave home.  
  
On the more experimental side, we have "Maisha Mazuzi, (Beautiful Life)," a song dedicated to a friend who maintained good cheer even while facing death from cancer. The track opens with the distinctive vocal flavor of South Indian (Carnatic) music, Rajesakar's liquid vocal and veena—with its nasal, buzzing sustain—coaxing in a lilting groove of finger-style acoustic guitar, acoustic piano and fretless bass. There's a hint of Habib Koite's signature blend of melancholy and uplift here, but the overall soundscape is effortlessly its own. Another hybrid, the celebratory "Yele Yele," juxtaposes Congolese guitar with the easy swing of old-school South African jazz. "Mpevo" unfolds over a slinky blues shuffle with more Carnatic vocal interventions from Rajasekar and elegant trumpet flourishes from Bobby J. Marks.  
  
It's hard to say what makes such unlikely fusions feel enticing and organic, rather than gimmicky and strange, but Siama has found that elusive alchemy here. For all its bold collaborative forays, this album feels personal. With humor, candor and confident musical playfulness, Siama is reflecting on a life of motion and change, finding joy in his discoveries, but never losing a certain wistfulness for all that's been left behind." 
Alistair Johnston's RIVERS review for Muzikfan
"Everyone can spell Mississippi but not everyone can spell Siama Matuzungidi's last name, so he is proud bearer of a single name -- like Adele, Bono or Cher! In the history of Congolese guitar there is a distinguished line of mi-solo players: this is a style of guitar that alternates between lead and rhythm and can be the engine room of a good song. The inventor was unquestionably Mwamba Déchaud whose younger brother Docteur Nico became one of the greatest exponents of African guitar. Then there was Vata Mombasa who led Orchestre Lipua Lipua. Just as Vata Mombasa was known as "the Professor," his colleagues dubbed Siama "Mualimu" which means "the teacher," because of his intelligence on the guitar.  
   
Among the legendary Congolese bands he was part of, Siama started out in the Cavacha band of Dona Mobeti (the cavacha was a wildly popular dance in the 70s). After that band split, one faction was led by Mopero wa Maloba who created Shama Shama, but groups often fell apart on tour and Siama was asked by his friend Koko Zigo Mike to come to Kampala, Uganda, where they formed Kombe Kombe. That band got a contract at the Garden Square in Nairobi where they regrouped as Viva Makale. Further splits led to Bwambe Bwambe, Pepelepe, Shika Shika of Jimmy Monimambo, then to Moja One of Moreno, and to Lovy Longomba's brilliant work before Super Mazembe, and then to Virunga, led by Samba Mapangala.  
   
After seeing Virunga at the Starlight Club in Nairobi in 1983 I became obsessed with this sound of the expatriate Congolese bands in Kenya, and started to retroactively collect information and recordings by them. Siama's career -- as he was in many of the key bands -- is central to my research.  
   
This is his first album in many years; he is now based in Minnesota so has a cosmopolitan band featuring Indian singers and even an Indian veena, Tibetan flute, country pedal steel guitar, jazz piano, and pan-African percussion, so maybe "By Way of the Ganges" could be a subtitle to the album. His acoustic guitar is strong and the instrumentation neatly complements it without drowning him out. There's a palm wine-style song, "Yele Yele," and other West African touches. One thing about musicians like Siama is they cannot stop making music and even out of Africa he finds some sympathetic souls to join him. When the trumpet comes in on "Mpevo," I thought of Hugh Masekela -- he came from South Africa to the US but also created an Afro-beat sound when he teamed up with Hedzoleh Sounds. Among several songs Siama wrote for Shika Shika, "Sisili" is reprised here, as well as "Kueya" which he originally performed with Samba Mapangala and Virunga.  
   
This is a welcome return to the studio for one of Congo's unsung legends."  
 
Euan Kerr feature for MPR: In guitarist's music, Mississippi flows out of the Congo
(link includes 4 minute audio interview)   
    
The latest addition to the Minneapolis sound draws on a rich musical tradition from Africa — with flavors blended in from the rest of the world.    
    
Siama Matuzungidi knew as a boy that he wanted to be a musician. He wanted to play guitar. But in Congo in the 1960s, that was a problem. "It was hard to have a guitar home at that culture," he said. "Like, if you had a guitar, your parents might throw it or break it."     
    
People believed that guitarists would spend so much time with their instruments, they wouldn't learn in school. But Siama really wanted to play, so he came up with a plan.     
    
He went to the local priest, who his dad respected, and said he wanted to learn music. The priest gave him a guitar. "So my dad wouldn't touch that guitar, because it was the priest's," Siama recalled. "So that was the trick."     
    
It turned out Siama was a natural. And soon he was playing the local specialty known as soukous.    
    
"It did begin by being a dance, soukous," he said. "People just keep saying 'Dance soukous! Soukous!' And soon it became like a music of the country, soukous music.''     
    
Siama moved to Kinshasa, where he found work as a session musician. He ended up playing on hundreds of records.     
    
Siama Matuzungidi in the garden of his south Minneapolis home on May 16. He's lived in Minnesota since 1996, after having played his infectious Congolese guitar music all over the world. Euan Kerr | MPR News    
    
It was during this time he recorded one of his biggest hits. It's called "Sisili," after a girl he knew.    
    
"I should have been more careful," he said. "I met this girl, and I told her, 'I want to sing you.'"    
    
He wrote the song, and a few days later, when a bandleader at a recording session needed one more piece, he offered it up. Before he knew it the song was being played on the radio, all across the country.    
The problem was Sisili's parents heard it out in the country — and drove straight to the city.    
    
"So I never saw her again," Siama said with a laugh.     
    
Since then, Siama has played all over the world. He moved to Minneapolis in 1996. Having grown up by the Congo River, he immediately felt an affinity with the Mississippi.     
    
He began meeting and collaborating with other transplanted musicians, and the result is the new album, "Rivers: From the Congo to the Mississippi," which will be released Tuesday night at the Cedar Cultural Center in Minneapolis.    
    
The album also features Tibetan singer Tenzin Ngawang, as well as Indian singer and instrumentalist Nirmala Rajasekar. There are also the gospel phrasings of J.D. Steele. Siama asked them all to sing about the rivers in their lives, and the result is astonishing.    
    
It's hard not to smile while listening to "Rivers."   
    
Siama said he tries to live by something his mother once said to him back in Congo: "You are responsible to make yourself happy. So when I play my music I believe I am sending a message of healing," he said.    
    
It's a message Siama hopes will spread down the Mississippi and across the world.   
James Nadal's RIVERS review for All That Jazz 
     
The Congo is located at the very heart of Africa, and has played the major contributory role of influencing musical trends throughout the region. Soukous originated in the 1950's when the impact of the Cuban rumba blended with traditional Congolese music. Incorporating the 3/2 clave rhythm, and adapting the piano montuno into guitar; it has two distinct parts, the slow complex rumba, which leads into the up-tempo sabene, and is based on the three chord structure.    
     
Siama Matuzungidi is a guitarist who in his travels throughout Africa, played on hundreds of soukous sessions, and whose singular guitar style traveled the airwaves on numerous radio oriented hits. Now located in Minneapolis, he is a prolific griot who sings of tales and travels in Rivers -From the Congo to the Mississippi. Known artistically as Siama, he has blended with his new environment and with an array of diverse artists to produce an innovative approach to soukous.    
     
The accompanying musicians on this production all have different backgrounds and each brings a distinct impression, though the compositions are all by Siama. The inclusion of Nirmala Rajasekar on vocals and veena, presents an Indian Carnatic tendency on "Mpevo," and "Maisha Mazuri," spirals into a spiritual sphere. Tenzin Ngawang on vocals, dranyen, and flute, provides an unusual Tibetan dimension on "Ndombolo," and the love song "Yolanda." Many of the songs were written with these new members in mind, though he does go back and cover some of his hits from back in the Congo. "Kueya," is definitive soukous, a resounding chorus interplay with the repetitious guitar pattern, as Siama does a vocal monologue forgiving his lost love.    
     
The addition of Joe Savage on pedal steel guitar gives "Malembe," a stinging sensation, while the acoustical "Yele Yele," derives from African tribal celebrations asking for blessings. "Oyayeyo," tells of the bittersweet conflict of parental pride and sadness as children leave home, a feeling Sima knows well as he left home as a teenager to play his music. Before his arrival in the states, he had performed throughout Africa, with extended sojourns in Japan and Dubai.    
     
Just as soukous music evolved from outside influences, so has Siama. He has accepted his global wandering as a destiny, and continues on the path he set for himself. Recently the beneficiary of several grants from Minnesota foundations, he was able to produce this record, and continues to progress artistically. He is recognized back in the Congo as a virtuoso soukous guitarist, and now has the opportunity to expand his horizons and spread his music.    
     
Track Listing: Jungle Zombie; Mpevo; Sisili; Kueya; Maisha Mazuri; Ndombolo; Bolingo; Yolanda; Mombasa; Malembe; Yele Yele; Oyayeyo.    
Personnel: Siama: guitar, vocals; Nirmala Rajasekar: veena, vocals; Tenzin Ngawang: drnayen, flute, vocals; JD Steele: vocals; Jacqueline Ultan: cello; Joe Savage: pedal steel; Zac Harris: guitar; Steve Paul: guitar; Bobby J Marks: trumpet; Tony Axtell: bass; Brian Ziemniak: grand piano, Hammond organ; Greg Schutte: drums; Tim O'Keefe: percussion; Dallas Johnson: vocals.    
Tad Hendrickson's concert preview for Star Tribune: The Rise of Congolese guitarist Siama is a tale of two rivers  
After spending his early years on the banks of the Congo, celebrated guitarist Siama now calls Minnesota home.      
Guitarist Siama Matuzungidi has gone from playing traditional soukous in rural Congo to becoming a nationally recognized musician living in the Twin Cities, where he received a 2014 McKnight Foundation grant.     
      
Music has more than its share of forgotten stars and underappreciated figures. There have been happy endings for some, such as the backup singers in the Oscar-winning "20 Feet From Stardom" documentary or even the members of the multi-platinum Buena Vista Social Club, but most aren't so lucky. 
    
Guitarist Siama Matuzungidi left his home in a Jesuit seminary (where his father was a chef) in the rural western part of the Democratic Republic of the Congo in 1971 at age 17. He passed through Uganda, Kenya, Japan and Dubai before coming to Minnesota with little fanfare as the husband of a Peace Corps volunteer — he was finally cleared in part after Sen. Paul Wellstone, D-Minn., wrote to the U.S. Embassy in Nairobi on Siama's behalf.     
      
"She never told me it was cold here, and I was too excited to read about it," Siama recalled with a laugh. "We arrived here in April of 1995, and I thought it was quite nice. Then the winter of 1996 was a bad one and I was like, 'Oh, my!' "     
      
Siama, as he's professionally known, recorded hundreds of soukous songs — a style of upbeat guitar-driven Afro-pop heard in bars and clubs across Central and East Africa — in Nairobi and even penned some radio hits in the music's golden era of the 1970s and '80s. But he didn't lead the bands, and songwriting credit often went to the bandleaders even if they didn't write the songs.     
      
Nonetheless, Siama's nimble guitar work was strong enough to be recognized and celebrated by hard-core soukous fans from around the world and even some Kenyan immigrants here in Minnesota.     
      
"People would meet him and remember his songs or a favorite club where he played and they would cry and call him a legend," says Dallas Johnson, a local singer and songwriter who is his collaborator and wife. "He never told me because he was too humble. He didn't have a discography of his works, so I spent dozens of hours online trying to pull it all together. It was just phenomenal what I found with the help of some record collectors who specialized in the music."     

After years of playing in bands in Minnesota such as Shangoya as well as current groups Marimba Africa, Afrobilly, Socaholix and Cyril Paul, Siama's music and world have broadened.     
      
The proof is in the upcoming release of his first album as a leader. Titled "Rivers — From the Congo to the Mississippi," the album features the 62-year-old guitarist/singer/songwriter leading a Minnesota-based rainbow coalition that includes local gospel and R&B icon J.D. Steele, Carnatic veena player Nirmala Rajasekar, Tenzin Ngawang on dranyen (Tibetan lute), classical cellist Jacqueline Ultan, pedal steel guitarist Joe Savage as well as a core jazz band.     
      
"I absolutely believe that music is the one universal language here on Earth," Siama said, sitting in the home he shares with Johnson in Minneapolis' Phillips neighborhood. "More so since I came here. You play any little thing and people get an idea from that. They hear something and respond."     
      
In the soukous groove     
Those players will be on hand at the Cedar Cultural Center on Tuesday for an album release party (outside of the Twin Cities, the CD will be available June 10).     
      
While Siama keeps a busy local schedule by appearing in different projects at such venues as the Cabooze, the Ordway's Flint Hills Children's Festival, Midtown Global Market and Wilebski's Blues Saloon in June and July, this is the first time music from "Rivers" will be played in front of a public audience.     
      
The album has bouncing soukous tunes such as "Bolingo" and "Mombasa" that will get the Cedar's dance floor moving. But the fusion of soukous with Siama's guests is remarkably effective, as well. The haunting "Maisha Mazuri," for example, includes the bedrock soukous groove with a jazz piano solo, a veena and vocal solo from Rajasekar, plus a gospel choir, while "Malembe" sounds like the perfect middle ground between country-western swing and African pop.     
"I have spent the last 11 years visiting and working with musicians and students in Africa, particularly East Africa," said J.D. Steele. "Siama's music embodies the styles from coast to coast on the continent."     
      
Funding the dream     
This album is also the outgrowth of a pivotal moment in 2014 when Siama won a McKnight fellowship for performing artists — a no-strings-attached $25,000 award.     
      
In what turned out to be the first step toward creating his new album, Siama took a chance and stepped away from the up-tempo dance style of classic soukous in favor of a more acoustic and multicultural approach. Despite the fact that the set featured new songs and arrangements created during one brief rehearsal by a band that had never played together, the combination worked seamlessly for the audition process.     
      
"For midcareer artists living and working here in Minnesota, like Siama, the fellowships provide a unique opportunity to take time to deepen their practice or to advance work on a new project," said Arleta Little, director of the McKnight Artist Fellowships Program. "Siama's new CD is a great example of this."     
      
At the McKnight awards ceremony, Siama could hardly believe what he heard, as dignitaries spoke of the importance of the arts in a community. Now the spotlight was on him and it felt warm and welcoming in his adopted home.     
      
"I kept thinking about where I came from," he recalled with pride. "There, you are not recognized unless you are rich. Nobody is going to give you credit for what you did. I'd never heard anybody say good stuff about me, saying how much I was needed. I realized that I had something to offer to this society."      
RIVERS review by WNYC for NPR/BBC World
"Siama was born in rural Congo and now resides in Minneapolis. He left his home in a Jesuit seminary at a young age with little belongings and his guitar. He traveled throughout Africa and Asia while working on his music and eventually settled down in the states. On his most recent release, Rivers – From the Congo to the Mississippi, Siama's vocals are strong and moving as he plays soukous songs on his guitar. He brings a coalition of very different artists together to accompany him, including a local gospel choir and Tibetan flutist. When I listen to his music, I can hear the juxtaposition of Siama's style and those of his background artists coexisting in a perfect mix which brings exuberant life to the listener. "
Interview with Madanmohan Rao
 for World Music Central
"Create more positive music" = Interview with soukous master Siama Matuzungidi
Siama Matuzungidi was deeply influenced by the soukous music of rural DR Congo (then known as Zaire) during his youth. He grew up in the Bakongo region, immersed in local traditions of music, storytelling and dance. He taught himself to play guitar at age 12, and later joined the band Cavacha in Kinshasa. He then moved on to Uganda and onward to Kenya; his later homes were in Dubai and Japan, and he is now based in Minneapolis. 
Siama would go on to play with a range of soukous greats: Tshala Muana, Sam Mangwana, Kanda Bongoman, Samba Mapangala, Moreno, Lovy Longomba and more). In 2014, he received a McKnight Fellowship for Performing Musicians, and launched a solo career. His album 'Rivers: From the Congo to the Mississippi' was released in May 2016. Siama joins us in this interview on his extraordinary musical journey, influences and collaborations.
Q: From DRC to Minnesota – that has been a long and winding journey! What has inspired you, and what have been the challenges?
A: Music makes me feel good and I feel like I'm gifted to make people happy when they hear my music. But when I compose a new song it's hard to know when it's ready to let people hear it!
Q: Who would you say are the leading influences in your musical career?
A: I first taught myself guitar by playing along with big soukous artists like Franco and Tabu Ley on the radio. While I was living in Kenya in the 1980s, George Benson became a big influence and still is. I was so honored he came to our gig while I was living in Japan (with Ibeba System band) and he sat in with the band. Joe Pass made me love guitar more too.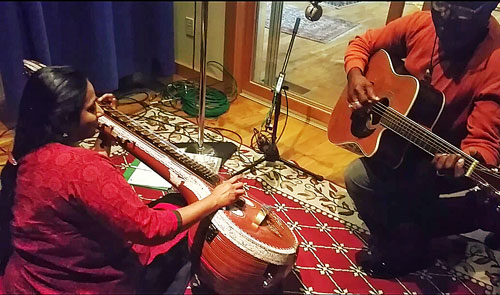 Q: Who are some of the musicians you collaborate with the most, and how did these relationships get formed?
A: I really enjoy collaborating with musicians who play different styles because it makes me think in a different way. It's a good challenge. One of my favorite collaborators is Nirmala Rajasekar, a veena virtuoso from South India. Her style of playing and singing is so different from mine but fits with my style so well, and she likes to experiment like I do. We first played together when Steve Kaul invited me to share a night at a world music venue. We composed a song on the stage and it felt like magic.
I play a lot with Mikkel Beckmen too. We met during the show with Nirmala. Mikkel plays washboard and other American traditional instruments which fit really well when I play my music on acoustic guitar. We wanted to perform at folk venues so he came up with the name, "Siama's Afrobilly" for our trio (with Dallas Johnson) because the name describes the bridge between American and Congolese traditional music.
Dallas Johnson is a singer who co-produced my new record and introduced me to many of the musicians who played on it. Dallas and I met in 1995 when we both had just moved to Minneapolis and were in the same band. She has two original jazz CDs available online and now we write songs and perform together. She helped me start my solo career in 2014 and quit her job last summer to work with me full time. We got married in October and we get to do a lot of fun music projects together.
Q: Who are some of the musicians you have collaborated with for your new album?
A: My new record features collaborations with many musicians who play different styles. The core band (Greg Schutte, Tony Axtell and Brian Ziemniak) plays jazz and jazz-funk and the record also features pedal steel player Joe Savage, gospel singer J.D. Steele, cellist Jacqueline Ultan, world percussionist Tim O'Keefe, versatile guitarists Zacc Harris and Steve Kaul, trumpeter Bobby Jay Marks, jazz singer Dallas Johnson, veena virtuoso and singer Nirmala Rajasekar from South Indian Carnatic traditions, and Tibetan master multi-instrumentalist Tenzin Ngawang. 
I could have invited a hundred more because there are so many musicians I love playing with. It makes me want to live a long time so I can try everything.
Q: What are some of the challenges in interpreting traditional folk music with modern instruments and style?
A: Traditional music from home was played with thumb piano, likembe and rhythm instruments. When I play traditional style songs with electric instruments the main thing that has to be right is the rhythm and the challenge is to play guitar chords that give a sense of the way traditional instruments sound. 
I play around with the notes and picking a lot until it reminds me of home. Growing up, we called traditional music, "old people music" but the more I learn other styles and the more I travel the more I appreciate how much traditional music from DR Congo has influenced music all over the world.
Q: How are you able to do 'fusion' of different styles and instruments without 'confusion?
A: The most important thing is picking musicians who are really talented and open minded. It takes courage and experience and each musician has to really listen and give each other room and be open to the moment. 
In the studio, I told the musicians to be free and have fun and find themselves in my music. I didn't want them to play what they thought I wanted to hear. We recorded all 12 songs in two afternoons. They'd learn the progression of a song, play it through once or twice and we'd record. Almost all of the songs were only second take. Back in Africa we'd record an album in one day, live to two-track. I wanted this record to feel live like that and we didn't do much overdubbing so there's more feeling in it. 
I give our engineer and co-producer Steve Kaul a lot of credit because with so many really great tracks it was a big challenge to mix the record in a way that featured guest collaborators but kept the songs simple and open. When listening to one of the songs before mixing began, one of the musicians said, "You're gonna have a job mixing that bowl of noodles!". Steve was a master at that and he had such great ideas for the songs and the mixes. I owe him a lot.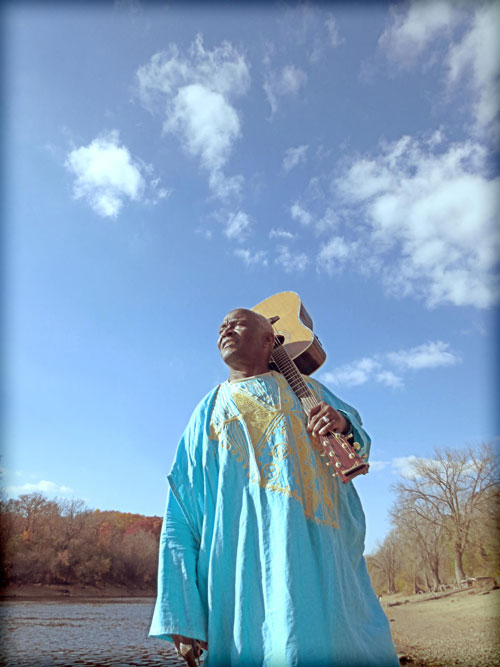 Q: How long were you working on the album Rivers?
A: We recorded the main tracks in November, added special guests and vocals in January and March and did most of the mixing in April – so six months on and off. We'd do a few days, then take a break, do more, take a break. We did it that way because I wanted it to feel natural and not forced.
Q: What is your next album about?
A: [laughing] I don't know yet. I'm busy promoting this one now. The feeling will come when it's ready. Actually, Dallas Johnson and I have started writing some kids' songs so that will be my next project, maybe during the winter. We love playing music with kids.
Q: The tracks Jungle Zombie, Sisilli, and Maisha Mazuri are fabulous ­ please tell us how you composed them!
A: The 6/8 rhythm in Jungle Zombie is used in almost every traditional song back home. I was playing around with some chords on my guitar and imagining hearing that beat and the sound reminded me of people waking up in the morning and walking through the bush to get food at the farm. That's why I wrote it in my mother's language Kikongo when I sing, "Bring me water. bring me food."
Sisili was the second song I composed in my life. I wrote it for my girlfriend Sisili, just as a love song for her. The melody came first and the words and chord progression came in a natural way. In the studio, Moni Mambo asked if any musicians had a new song so I played Sisili. He loved it and it became a big hit. The bad thing was Sisili's dad didn't want her dating a musician so he took her out of town and we never saw each other again.
Our sweet friend moved in with us while she was very sick. I would sit quietly with her and play guitar to help her relax and the chords to Maisha Mazuri came to me during that time. She loved it and always asked me to play it for her. Even though she was facing so much pain she would invite her mom and her friends to hang out with her, meditate with her, make her healthy food and make her laugh. It was so inspiring to see how much she loved life so I wrote the lyrics for her. ("Beautiful life. Drink it up. No one knows about tomorrow but today is for us to live.")
Q: How would you describe your musical journey? 
A: It's been fun! I've met so many people I wouldn't have met if I wasn't a musician. I would've been stuck in an office and I wouldn't know why I was so bored and not happy. Music is so fun and inspiring. It makes people get along and enjoy life so much. Music is a great way to make friends with good people.
Q: Where do you see yourself headed in the next 10-15 years?
A: I want to be somewhere by the sea, relaxing without worries and of course I want to play music forever. Most of my life I played music every day but never made much money. I started my solo career in 2014 and things have been going great. I'm hoping this can keep growing so I can travel and collaborate with musicians and make friends around the world.
Q: Which are your favorite musical festivals, and what makes them so special?
A: I love the Winnipeg Folk Festival and the American Folk Festival because the musicians are so talented and you can hear so many styles so it's inspiring. There are so many great music festivals here in MN during the summer. I'm really looking forward to the Lowertown Guitar Festival in August.
Q: What are some unusual reactions you have got during your live performances? 
A: Sometimes people come to me in tears saying my music is a healing cure for their soul.
Q: Do you also teach workshops for students/musicians?
A: Yes, I teach songwriting, guitar and rhythm. I'd like to do more of this because I love helping people learn. They say I make it fun and inviting.
Q: What have been some of your collaborations with musicians from Asia?
A: I already described playing with Nirmala. I also love playing with my Tibetan friend Tenzin Ngawang. He is a master musician and singer who's so creative and has such a big heart too. He seems shy but then he opens his mouth to sing and he surprises people with his big sound. He plays a dranyen (Tibetan lute) so it's fun to play with another stringed instrument and fun to compose together because he brings different ideas I wouldn't think of.
Q: What kinds of social and political messages have been conveyed in your recent albums?
A: My music is a message about love and happiness, not politics. Everybody has a different purpose. Mine is to share love and make people happy.

Q: What is your message to the musicians and artistes of the world in this age of globalisation and also conflict?
A: Let's create more positive music so negativity doesn't make us forget the good things in life. Art and music are very important.
William Ruben Helms's RIVERS review for The Joy of Violent Movement           
Congolese-born, Minneapolis, MN-based guitarist, singer/songwriter and composer Siama Matuzungidi has had a lengthy, decades long prolific career that began in earnest when he left his home in rural Democratic Republic of the Congo, then Zaire with a guitar strapped to his back. He then travelled to Kinshasa and Uganda before eventually landing in Nairobi, Kenya. And during those travels a young Matuzungidi was a studio musician, songwriter and or cowriter with some of soukous' biggest and brightest names including Kanda Bongo Man, Sam Mangwana, Moni Mambo with Shika Shika, Lovy Longomba, Tshala Muana and Samba Mapangala with Virunga; in fact, Matuzungidi has played on more than 100 singles, including some of soukous' most beloved radio hits while developing a reputation for material based around tales of love, desire and betrayal paired with catchy hooks and a wry and ironic sense of humor — although on many of those songs he wasn't officially credited.       
        
As a result of his prolific songwriting and incredible guitar work, Matuzungidi became considered one of soukous' legends — and in a highly competitive genre in which writing catchy song just wasn't enough to stay relevant. During the genre's golden age during the 70s and 8os, it took more than writing a catchy song to keep listeners ears and fans buying albums, and the genre's songwriters and musicians began writing songs with a deeper complexity and nuance, so you'd hear intricate hooks, complex scales an more. And interestingly enough, that period of experimentation may arguably have prepared and influenced the Congolese soukous legend's future interest in experimenting with his sound.       
        
Now as the story goes, after spending time performing in Japan and Dubai, Matuzungidi relocated to Minneapolis, the soukous legend quickly realized that he was in for a rather big professional and personal change — "for the first time there wasn't anyone to play soukous with. I was worried I might have to stop playing but another voice told me to try new things," Matuzungidi explains in press notes. So the Congolese singer/songwriter and guitarist decided to invite a number of local and locally-based emigre musicians to collaborate with him including Carnatic Indian singer and veena virtuoso Nirmala Rajasekar, renowned gospel singer JD Steele, master Tibetan multi-instrumentalist Tenzen Ngawang, classical cellist Jacqueline Ultan and Joe Savage on pedal steel. As Matuzungidi continues "I invited musicians to share what they feel when they hear my music. I didn't tell them what to play. I just encouraged them to express themselves in their own way. The music still sounds like home but they've added so many cool ideas to it."       
        
And as a result Matuzungidi's recently released full-length Rivers is a bit of a modern and highly global take on traditional Congolese music. I have the unique privilege of premiering Rivers' opening single, the upbeat 6/8 "Jungle Zombie" which pairs a twisting and looping guitar line with bright blasts of horn, playful polyrhythm and a jazz-leaning bridge in a loose composition that allows room for each of the musicians a few brilliant moments to show off in a brilliant solos, along with call and response vocals. Reportedly, the song is loosely inspired by and is meant to channel the imagery of Matuzungidi and his family walking through the bush to get to their farm, where they grew their own food. Interestingly, as the press notes mention the song's lyrics translated from Lingala simply say "Bring me water. Bring me food . . " But the main thing is that the song is so joyous, so fun that you can't help but want to dance along.